On Sunday, March 18, 2007, on the second day of a ten day Florida birding trip, three "Senior Birding Buddies" (the birding group is now called the "Wagtails"), Dave Pierce,Dency Kahn, and Dave Faintich were driving toward our next birding destination in central Florida.
As we drove along a back road, I saw a sign for "Moon Lake Park." This place was not a part of the Great Florida Birding Trail, or as we were to find out later, not a place frequented by birders. It is a place for swimming, jet skiing and boating – a great recreational lake. We went there anyway to take a look, not expecting to find anything very interesting.
When we arrived at the park we drove up to the boat ramp, to the right of which is a man-made sand beach approximately 100 yards long. Several kids were playing on the beach. As we stopped, we immediately saw a bird fly onto the beach at the opposite end from the boat ramp. I suggested it might be a "peep" of some kind.
At that moment, a boater pulled up behind our car and gestured for me to move the car to the parking lot (about 25 yards behind the beach) so he could put in his boat. So I drove the car to the parking lot and returned to the beach with a spotting scope. Within a minute or two of watching this bird walk away from us, it turned around and started to walk toward us. As soon as Dave Faintich saw its huge black bib, he shouted to Dency "WAGTAIL". While on a European cruise with his wife last year, he saw a White Wagtail at the Madrid, Spain airport walking along the tarmac – so he was familiar with the Wagtail's features. Dency confirmed the sighting (she had seen a Wagtail in Japan years before). I had never seen a White Wagtail in my life.
We were positively able to identify this bird as a White Wagtail. For about twenty minutes we observed the bird,and Dave Faintich took a number of photos and videos. At various times the bird walked up and down the beach near the water and came very close to us (within 20 feet or so), periodically walking toward and away from the water. It didn't seem to fear humans. As we were watching the bird, kids would come to the beach, and we shooed them away, telling them we were observing a rare bird and they needed to stay back.
We then decided that we should notify Florida birders (we knew the bird was rare, but at the time didn't know that this was the FIRST SIGHTING EVER OF A WAGTAIL IN FLORIDA – AND ALSO FLORIDA'S 500 TH BIRD!!!
After trying several names from the Florida birding listserve, we finally got in touch with Murray Gardler, who met us at a local Perkins Pancake House, looked at the photos and confirmed the sighting. Murray immediately called the Florida birding hotline, followed us back to Moon Lake Park and within 30 minutes about 15-20 other birders showed up. Unfortunately, the Wagtail was gone and all the birders got to see were the photos and a video of the bird. Fortunately for them, the Wagtail showed up again at Moon Lake Park on March 19 th and again on March 22 nd so many other birders got to see it. We needed this verification so the local folks wouldn't think we were "nuts".
We met lots of Florida birders such as Murray Gardler, Al and Bev Hansen, Dave Freeland, Ken Tracey, Rick Greenspun, and Larry Manfredi and we thank them all for their hospitality during this great experience. We made some wonderful new birding friends!!! Rick Greenspun recently traveled through St Louis and we were able to show him several Eurasian Tree Sparrows for his life list.
On this Florida trip I was lucky to see 14 new lifers, mainly in the Miami and Homestead areas. Never in my wildest dreams did I ever think we would find a White Wagtail! Many times birding can be uneventful, or even disappointing- but sometimes you get lucky.It's times like this that makes birding so rewarding.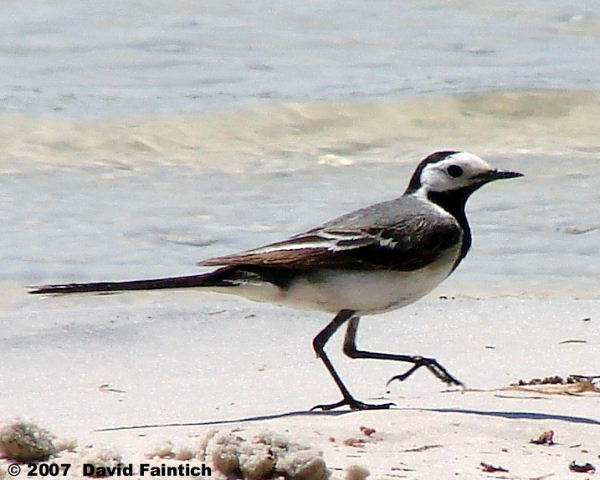 White Wagtail - Moon Lake Park, West Pasco, Florida March 18th, 2007