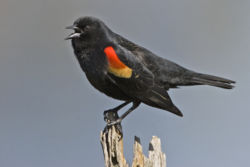 Male Red-Winged Blackbird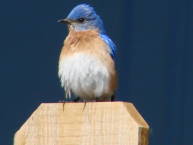 Male Eastern Bluebird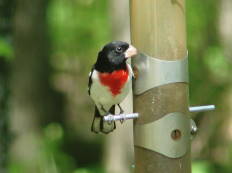 Male Rose Breasted Grosbeak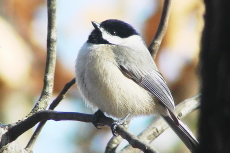 Carolina Chickadee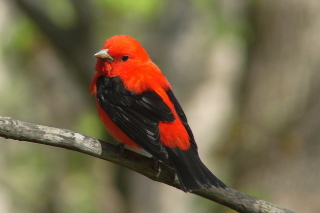 Scarlet Tanager male

Born and raised in Iowa, I became interested in birds at ten years of age. My Dad worked for the telephone company and took me along for a ride one day in his truck to repair some downed lines after a storm. It was early June, and while Dad was up on a telephone pole, I wandered into the ditch by the side of the road. In the cattails there, several pairs of Red-Winged Blackbirds were nesting and the birds all began flying over my head and around me screaming as they defended their nests. At that moment I became intrigued by birds which would later become an obsession as I grew older.
I majored in biology at Luther College in Decorah, Iowa and after graduation taught high school in a couple of Iowa towns. Later I joined the American Cancer Society as an educator and travelled the entire state of Iowa. In 1974, I was transferred to St Louis and worked in fund-raising for a number of years. In 1986, I joined Sherwood Medical and worked as a quality assurance analyst for 13 years. In 1999, Tyco International closed Sherwood headquarters in St Louis and I received an early retirement package from them.
Too young to retire and become a "full-time birder", the next best thing was to get into the birding business. I was the co-owner of a Wild Bird Center in St Louis for six years until I officially retired in 2005. After retiring, my wife and I moved into a secluded wooded area west of St Louis on 4.2 acres of land. Now my "job" involves running errands, birding, and taking care of our pack of beautiful golden retrievers. We have two daughters, Dawn and Dana who live and work in the St. Louis area, plus two wonderful grandchildren, Lauren and Grace.
I have served on the Board of Directors of the St Louis Audubon Society and my wife and I have worked on the local chapter's website. In 2008 my wife, Diane, and I formed a new charity called Senior Dogs 4 Seniors where we placed older dogs in the homes of older people. Life is good! I have many miles to travel and dozens of more birds to see before I quit doing what I love best --birding.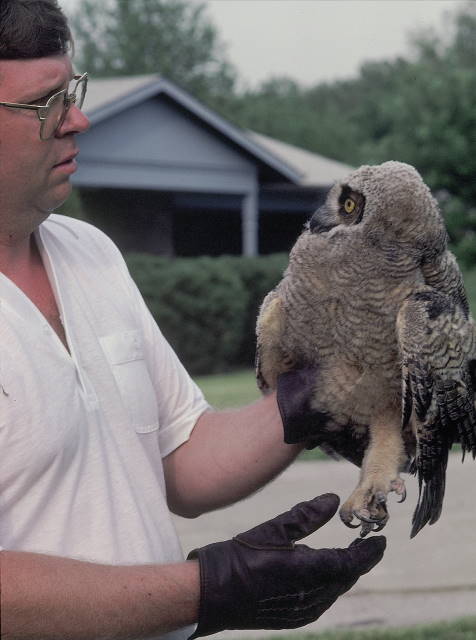 David and young Great Horned Owl